Quick Facts About Springfield Hellcat
11+1 capacity with flush-fit magazine, 13+1 capacity with extended magazine.
U-Dot rear sight with Tritium & Luminescent front sight.
Rear, top, and forward slide serrations.
Standard rail to accommodate lights or lasers.
Adaptive grip texture provides a positive grip that is gentle on skin and clothing.
3" cold hammer forged barrel.
Dual captive recoil spring.
Reversible magazine release.
Flat-faced trigger body and nickel boron-coated trigger group ensure a smooth, consistent trigger pull.
Loaded chamber indicator.
Overview
The Springfield Armory Hellcat pistol is a compact, feature-rich firearm that excels in concealed carry and personal defense. With its size, capacity, and performance, the Hellcat has quickly gained popularity among shooters seeking a reliable, easily concealable handgun.
The Hellcat's compact dimensions make it an excellent choice for everyday carry, as it can be comfortably and discreetly carried on the body. Its lightweight construction, typically weighing 18 to 20 ounces, ensures minimal fatigue during extended carry periods. The pistol's ergonomics, well-designed grip, and intuitive controls contribute to a comfortable shooting experience and ease of use.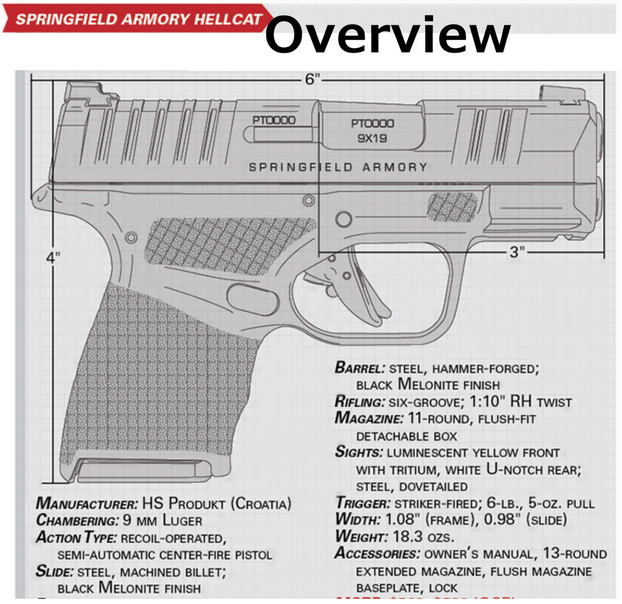 The name "Hellcat" reflects the pistol's compactness, agility, and fierce nature, drawing inspiration from the powerful, nimble World War II-era fighter aircraft. The Hellcat was developed to offer a superior concealed carry experience, combining innovative features with reliable performance to meet the needs of modern-day gun owners.
Since its introduction, the Springfield Armory Hellcat has garnered positive reviews and has become a popular choice among concealed carry enthusiasts and professionals in the firearms community. Its unique blend of features and Springfield Armory's reputation for quality have positioned the Hellcat as a significant player in the micro-compact pistol market.
Key Features
Every feature of Springfield Hellcat is designed to create the best handgun possible for concealed carry with the unrelenting reliability you need to defend yourself at any time and anywhere. The Hellcat has been tested with a grueling 20,000 rounds without a malfunction, so you can be sure that your Hellcat will perform when needed.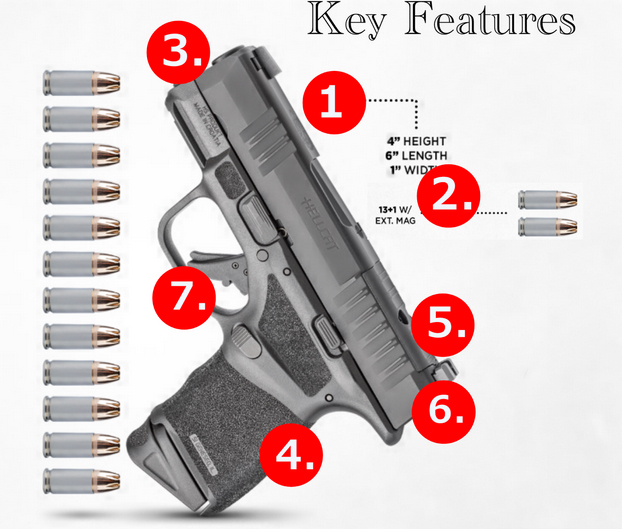 Size and Weight
The Springfield Armory Hellcat is designed to be incredibly compact and lightweight, making it an ideal choice for concealed carry. With a barrel length of approximately 4 inches and an overall length of around 6 inches, the Hellcat's compact dimensions contribute to its ease of concealment and comfortable carry. Additionally, its unloaded weight of about 18 to 20 ounces (depending on the specific model and configuration) ensures that the pistol remains lightweight and manageable throughout extended carry periods.
Capacity and Caliber
One of the standout features of the Hellcat is its impressive ammunition capacity. It is available in 9mm and .380 ACP versions, with the 9mm variant being the most popular. The standard Hellcat model typically features a flush-fit magazine with 11 rounds, giving it one of the highest capacities in its class. Additionally, an extended magazine with a capacity of 13 rounds is available, providing even greater firepower without sacrificing concealability.
Striker-fired Action
The Hellcat utilizes a striker-fired action, offering several self-defense pistols advantages. The striker-fired mechanism provides a consistent trigger pull with a relatively short and crisp reset, enabling quick follow-up shots and enhanced accuracy. The consistent trigger pull also reduces the likelihood of accidental discharges, providing an added level of safety.
Adaptive Grip Texture
Springfield Armory has equipped the Hellcat with its patented Adaptive Grip Texture, designed to optimize the shooter's grip and control over the pistol. The textured pattern features a combination of aggressive texturing and strategically placed pyramid shapes, ensuring a secure and comfortable grip under various shooting conditions. This grip texture helps to mitigate recoil and allows for better control during rapid firing sequences.
Optics Ready
The Hellcat OSP (Optical Sight Pistol) variant has a milled slide that directly mounts micro red dot sights. This optics-ready design provides shooters the option to enhance their sight picture and target acquisition speed by adding popular miniaturized reflex sights such as the Shield RMSc or the Trijicon RMR. Adding an optic to the pistol offers increased precision and faster target transitions, particularly in low-light or high-stress situations.
Enhanced Sights
The Hellcat features a set of high-visibility sights to facilitate rapid and accurate target acquisition. The rear sight is serrated and features a wide U-shaped notch, allowing for quick alignment with the front sight. The front sight is a bright yellow luminescent ring with a tritium insert, providing excellent visibility in both daylight and low-light conditions. This combination of sights enables shooters to acquire targets quickly and effectively, enhancing overall shooting performance.
Trigger and Trigger Safety
The Hellcat has a trigger that offers a smooth and consistent pull, with a short reset for rapid follow-up shots. The trigger features a built-in safety lever, known as trigger safety, which helps prevent accidental discharges. This safety mechanism ensures that the trigger will only engage when direct pressure is applied to it, minimizing the risk of unintentional firing.
Springfield Hellcat Design and Ergonomics
Slide Design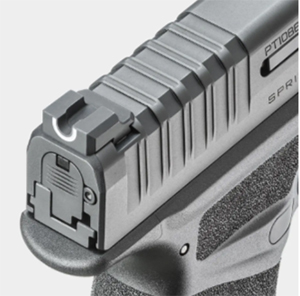 The slide of the Springfield Armory Hellcat is engineered to balance strength, durability, and ease of manipulation. It is typically constructed from rugged steel or a combination of steel and other lightweight materials to reduce weight without compromising structural integrity. The slide features front and rear serrations, allowing for safe and effortless manipulation when performing slide manipulations such as press checks or clearing malfunctions. The slide's design also contributes to the pistol's sleek and streamlined appearance.
Frame Design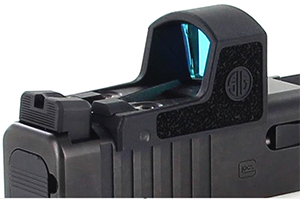 The frame of the Hellcat is designed with a focus on ergonomics and shoot ability. It is typically constructed from a high-quality polymer, offering a lightweight and durable platform. The frame incorporates ergonomic features such as textured grip surfaces and finger grooves, providing a comfortable and secure hold on the pistol. The grip angle is optimized to promote natural pointing and aiming, allowing for instinctive shooting and enhanced accuracy.
Grip Shape and Texture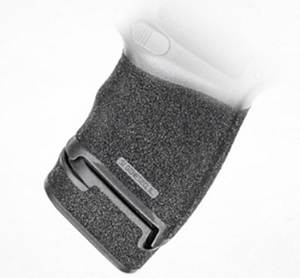 The Hellcat features a carefully sculpted grip shape that accommodates a wide range of hand sizes while maintaining a compact profile. The grip is typically designed to be slim and contoured, minimizing printing and improving concealability. The grip texture, often utilizing Springfield Armory's Adaptive Grip Texture, offers a high-traction surface that helps to ensure a firm and secure grip, even in adverse conditions. This grip texture contributes to recoil management and overall control during firing sequences.
Ergonomic Considerations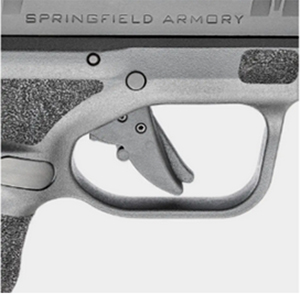 The design of the Hellcat takes into account various ergonomic considerations to enhance the shooting experience. The placement and contouring of the grip, along with the overall balance and weight distribution of the pistol, contribute to reduced felt recoil and improved control. The Hellcat's compact dimensions and smooth edges also ensure comfortable carry, minimizing discomfort or snagging on clothing during concealed carry.
The overall design and ergonomics of the Hellcat prioritize user comfort and control, allowing for a confident and natural shooting experience. The careful attention to detail in the slide design, frame construction, grip shape, texture, and control placement contribute to the pistol's overall performance and usability.
Accessories and Customization Options
Optics Compatibility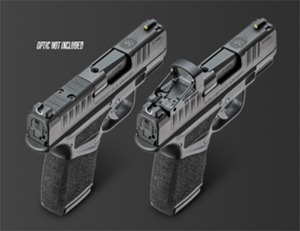 The Hellcat Optical Sight Pistol variant is designed to accommodate micro red dot sights. The pistol features a milled slide that directly mounts popular miniaturized reflex sights like the Shield RMSc or the Trijicon RMR. This optics-ready design allows shooters to enhance their sight picture, target acquisition speed, and accuracy by adding a compatible red dot sight. The ability to customize the Hellcat with an optic expands its versatility and caters to individual shooting preferences.
Holsters and Carry Options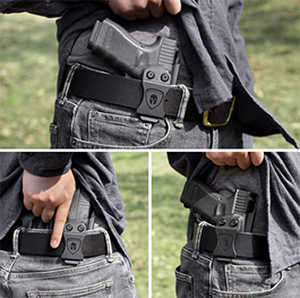 The popularity of the Hellcat has led to a wide range of holsters and carry options being available on the market. Various manufacturers offer holsters to accommodate the Hellcat's compact dimensions, allowing for comfortable and secure concealed carry. Springfield Hellcat holster come in different styles, including inside-the-waistband (IWB), outside-the-waistband (OWB), and appendix carry, providing shooters with options to suit their preferred carry method and clothing preferences.
Aftermarket Parts and Upgrades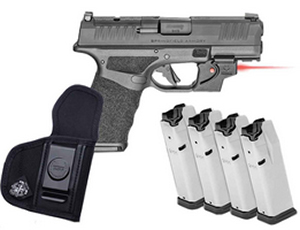 The Hellcat has gained a substantial following in the firearms community, leading to an array of aftermarket parts and upgrades being developed specifically for the pistol. These aftermarket options can include enhanced triggers, extended magazines, magazine baseplate extensions, slide enhancements, grip extensions, and more. Shooters have the ability to customize and personalize their Hellcat to meet their specific needs and preferences, whether for improved ergonomics, enhanced performance, or aesthetics.
Magazine Options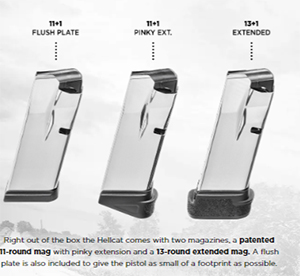 The Hellcat typically comes with a flush-fit magazine with a standard capacity of 11 rounds (9mm variant). However, extended magazines with increased capacities are available for those seeking additional firepower without sacrificing concealability. The extended magazine option usually provides a capacity of 13 rounds, giving shooters an extra two rounds over the standard magazine. These extended magazines can benefit those who prioritize maximizing their ammunition capacity or prefer to have spare magazines with increased rounds readily available.
Safety Features
Trigger Safety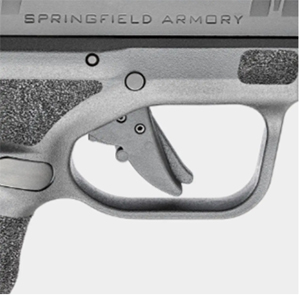 The Hellcat has a trigger safety mechanism that helps prevent accidental discharges. The trigger safety is a lever integrated into the trigger itself, requiring direct pressure on the face of the trigger to disengage the safety and allow the trigger to be pulled. This feature ensures that the trigger will only engage when intentional pressure is applied, minimizing the risk of unintentional firing.
Loaded Chamber Indicator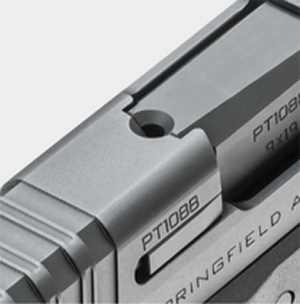 Many variants of the Hellcat include a loaded chamber indicator and a visual and tactile feature that indicates a loaded chamber. The indicator is typically located at the top of the slide or the rear of the barrel hood. When a round is chambered, the indicator will protrude or be visible, allowing users to quickly verify if the pistol is loaded without manually checking the chamber.
Grip Safety (Optional)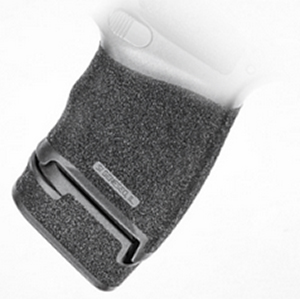 Certain variants of the Hellcat feature an optional grip safety. The grip safety is typically located on the rear of the grip, where it must be fully depressed for the trigger to be engaged. This safety feature protects against accidental discharges by ensuring that the pistol can only be fired when a proper grip is established.
Manual Thumb Safety (Optional)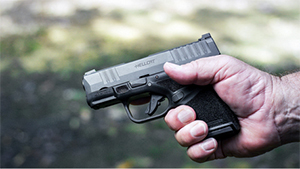 Some variants of the Hellcat offer optional manual thumb safety. This safety lever is typically located on the left side of the frame and can be engaged or disengaged manually. When engaged, the thumb safety prevents the trigger from being pulled and adds an extra layer of security against unintentional firing. Shooters who prefer an additional safety feature can choose a Hellcat variant with manual thumb safety.
Striker Status Indicator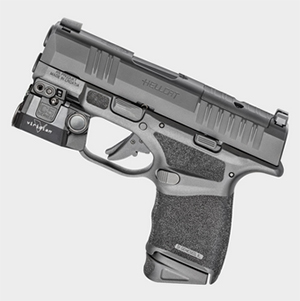 The Hellcat may include a striker status indicator, which provides a visual and tactile indication of the striker's status. This indicator typically protrudes from the rear of the slide when the striker is cocked, providing a visual confirmation that the pistol is ready to fire. The striker status indicator allows users to easily determine if the pistol is in a ready-to-fire condition without having to manipulate the slide or visually inspect the chamber.
Conclusion
In conclusion, the Springfield Armory Hellcat is a reliable, compact, and feature-packed pistol that excels in concealed carry and personal defense scenarios. Its size, capacity, accuracy, and safety features make it a formidable choice for individuals seeking a dependable and easily concealable firearm. Whether for everyday carry or as a reliable self-defense option, the Hellcat delivers on its promise of performance and functionality.