Read This Before Buying the sccy 9mm pistol.
The Sccy CPX 2 may not boast the highest level of refinement among firearms in the market, but it is intentionally crafted to provide exceptional affordability.
Overview SCCY CPX-2
In the realm of concealable firearms, the SCCY CPX-2, produced by SCCY (pronounced "sky"), stands out as a formidable contender. Designed to accommodate the 9mm caliber, this handgun packs a punch while remaining remarkably compact.
The SCCY CPX-2 is a lightweight handgun weighing approximately one pound when unloaded. It has a 10-round magazine capacity and falls into a relatively larger size category.
It is comparable to the Taurus G2C in size, but it distinguishes itself by being significantly lighter and having a different overall feel.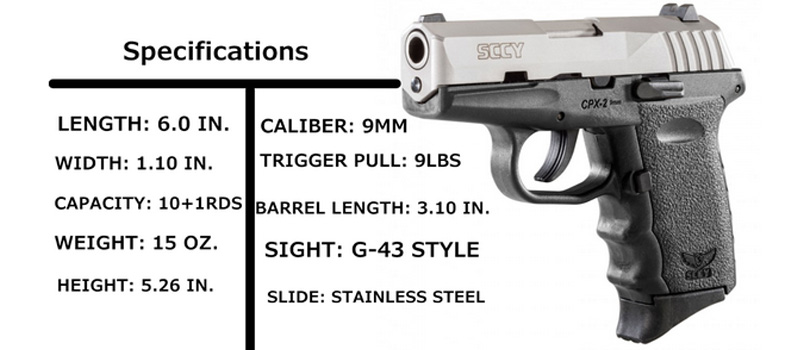 The CPX-2 is specifically marketed toward individuals interested in concealed carry and self-defense rather than for duty or range use.
It may not be ideal for recreational shooting at the range, which will be discussed in more detail below.
If you are seeking a budget-friendly pistol that fits within a narrow budget range, the SCCY CPX-2 is a suitable option. It typically costs around $200, and adding a red dot sight may raise the price to around $300.
With its 10-round capacity, the CPX-2 offers decent shooting performance while still being compact enough for concealment. It can be comfortably carried inside the waistband (IWB), as an appendix carry (AIWB), or outside the waistband (OWB), provided you have suitable clothing and a reliable holster.
The birth of sccy 9mm remarkable firearm resulted from fortuitous circumstances. In 1998, Joe Roebuck conceived the idea of a small, reliable, and affordable handgun, largely driven by the prevailing climate in the United States and its stance on conceal-and-carry permits.
SCCY CPX-2 Key Features
Compact and lightweight design for easy concealment and everyday carry.
Chambered for the popular 9mm caliber, offering a balance between recoil control and stopping power.
Double-action trigger for consistent and reliable performance.
10-round magazine capacity for ample firepower.
Fixed barrel design for improved accuracy and reliability.
Durable construction with a stainless steel slide and polymer frame.
Ergonomic grip with finger grooves and textured panels for a secure and comfortable hold.
Three-dot sights for quick and easy target acquisition.
Adjustable rear sight for precise windage adjustments.
Enhanced safety features, including trigger safety and external manual safety.
Affordable pricing, making it accessible to a wide range of firearm enthusiasts.
Things To Know Before Buying SCCY CPX-2 9mm
The SCCY CPX-2 has a magazine capacity of 10 rounds, but unfortunately, there are limited options for aftermarket magazines that can be trusted in terms of reliability.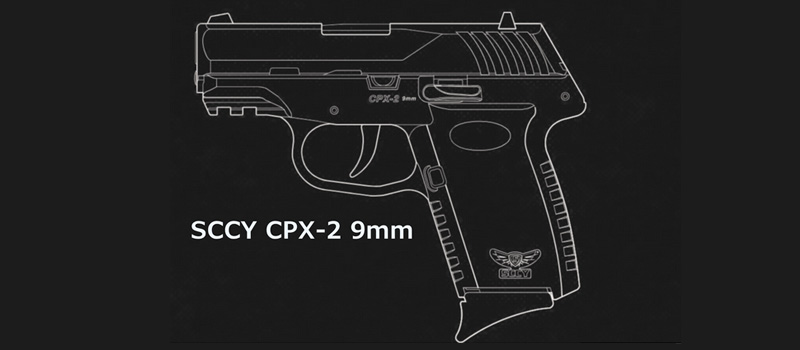 While the CPX-2 may appear smaller at first glance, it feels larger when held in the hand. The gun's dimensions reveal its relatively large size, primarily due to the grip. The grip size contributes to its overall dimensions and may impact how it feels in the hand.
Despite its larger size, the CPX-2 remains lightweight. While this can be advantageous for concealed carry, it can also present challenges when shooting at the range. The gun's larger size and lighter weight can make it more difficult to control during shooting, requiring extra effort to manage recoil and maintain accuracy.
It's important to consider these factors when evaluating the SCCY CPX-2. While it offers a 10-round capacity and a compact appearance, its larger size and lightweight nature may affect shooting comfort and control, especially during extended-range sessions.
Grip/Ergonomics
The grip of the SCCY CPX-2 is not the most comfortable, but it is not uncomfortable either. The finger grooves on the grip can provide a secure hold and compensate for other potential deficiencies. However, individual preferences and hand characteristics play a significant role in determining the overall comfort and ergonomics of the firearm.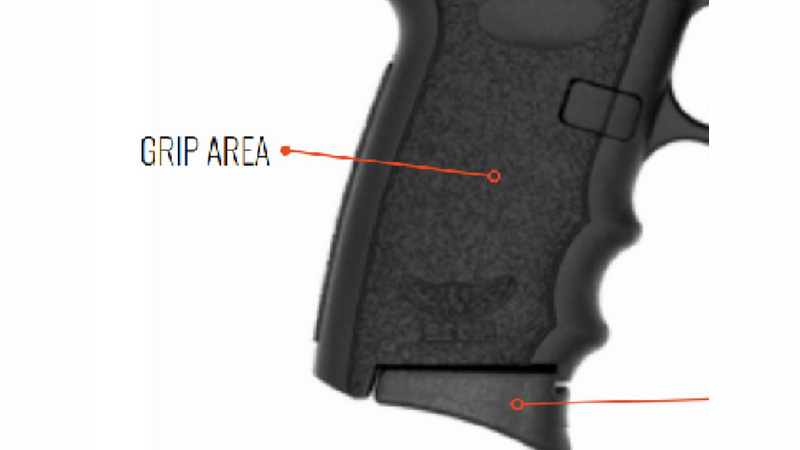 However, if you have larger or smaller hands, the finger grooves might hinder you. This can be a major turn-off when considering this firearm.
Unfortunately, the grip lacks modularity, meaning there are no options for removing backstraps or changing grip panels. What you see is what you get. If the grip doesn't suit your preferences, no alternatives are available. However, considering the affordable price point of this firearm, it's important to manage expectations in terms of customization options.
Texturing
While there is some texture on the side panels of the grips, it is primarily for aesthetic purposes rather than functionality. The lack of sufficient texture makes maintaining a secure and firm grip challenging. The gun has a smooth and slick feel, which can be a disadvantage during shooting, especially considering its weight and the polymer material used in its construction.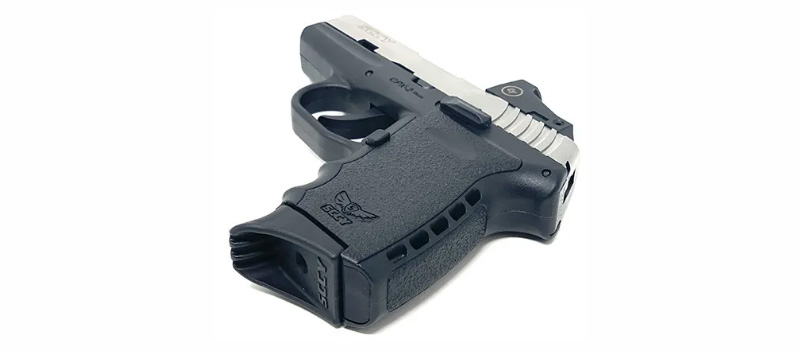 This lack of effective grip texture may have implications for shooting performance, which will be discussed in more detail later.
Sights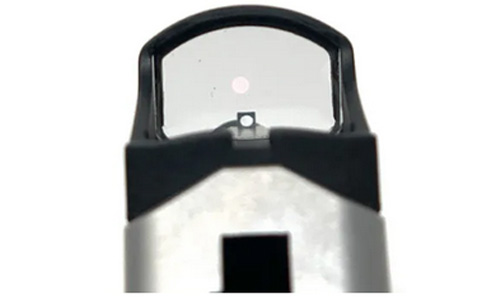 The Sccy CPX2 offers two sight options: standard iron sights and factory-installed steel sights. While these sights are not of target-grade quality, they are decent considering the handgun's price point. Additionally, there is an option to have the pistol milled for a crimson trace red dot sight, exclusive to Sccy pistols.
Controls
The Sccy CPX2 lacks an external safety mechanism, unlike its counterpart, the Sccy CPX1, which incorporates a thumb safety. However, We would not recommend opting for the CPX1 version due to its uncomfortable shooting experience caused by certain ergonomic safety design aspects.
Magazine Release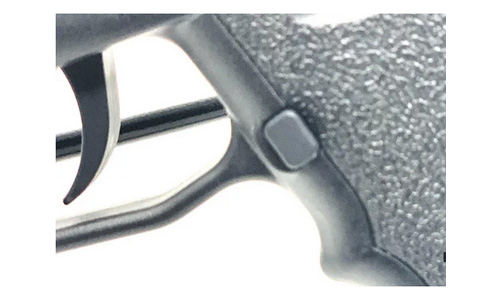 The magazine release in the CPX 2 is positioned exclusively on the right-hand side of the gun, making it suitable for right-handed individuals.

However, individuals with slightly smaller hands may need to adjust their grip to avoid reaching the magazine release, as it is situated on the left-hand side.
Slide Stop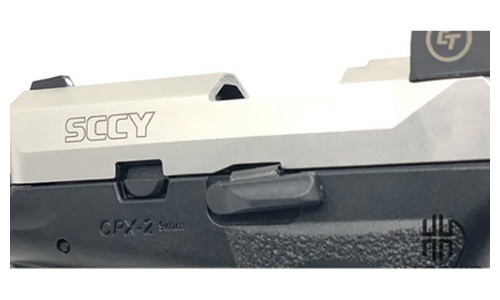 Interestingly, the Sccy CPX2 boasts a remarkably well-designed slide stop. It consists of a polymer over-mold on a sheet metal component, resulting in excellent ergonomics. As a right-handed shooter, you can conveniently access the slide stop using either your firing hand thumb or your support hand thumb during reloading.
Based on the information provided, this feature stands out as one of the most impressively crafted aspects of the firearm.
Trigger Sccy CPX2
The Sccy CPX 2 features a double-action-only trigger characterized by its substantial weight. However, it compensates for the heaviness by offering an impressively smooth trigger pull. The smoothness of the trigger should not be underestimated, as it provides a springy sensation. While it may not receive any prestigious awards, it is worth noting that given the pistol's price range, the trigger performance is quite commendable and pleasantly surprising.
Aftermarket
Indeed, the Sccy CPX 2 does not have significant aftermarket support compared to other firearms. Most individuals who purchase this gun are not necessarily looking to enhance or modify it.
Instead, they are attracted to it primarily because it fits their budget and offers a functional and reliable option. Consequently, given its intended market and purpose, a substantial aftermarket for the CPX 2 needs to be provided.
Sccy CPX-2 on the Range
The Sccy CPX-2 is a compact gun, measuring just over six inches in length, making it easy to carry in a pocket with a flat baseplate attached to the magazine. Due to its small size, you will feel the recoil more prominently than larger guns. However, the CPX-2 is designed to be easy to grip and maintain accuracy, even during rapid fire. Using an extended magazine base is highly recommended for longer-range sessions as it enhances control over the gun.
The magazine release and slide lock lever are located on the left side of the pistol, which may not be ideal for left-handed shooters as they are not interchangeable. The front sight is fixed to the frame, while the rear sight can be adjusted for windage if necessary. With these features, the Sccy CPX-2 provides everything needed in a defensive pistol without requiring a significant investment.
Accuracy Reliability
The Sccy CPX-2 generally offers satisfactory accuracy and reliability for its price range. While it may not match the precision and consistency of higher-end firearms, it can deliver decent accuracy within typical self-defense distances.
Regarding reliability, the CPX-2 has a reputation for being a reliable handgun. It is known for functioning reliably through various shooting conditions and handling a reasonable number of rounds without significant issues.
Accuracy also depends on the type of ammo you are using. Choose the best self defence ammo for your SCCY 9mm.