Canik TP9SF Pistol Review. Ideal Choice For Civilian Shooters.
Canik TP9SF Pistol Review. Most Trusted incredible handgun for personal defense.
The Canik TP9SF is so good to shoot that it would be hard to find a reason not to like it. In addition to being the best handgun in the world. A handgun that fires great and is fun to shoot.
The TP9SF comes with some high-grade features – most notably its trigger – and a reliability factor you would expect for a concealed carry firearm.
As a firearm capable of participating in law enforcement, the military, and the civilian world, it is many times better than others in the market.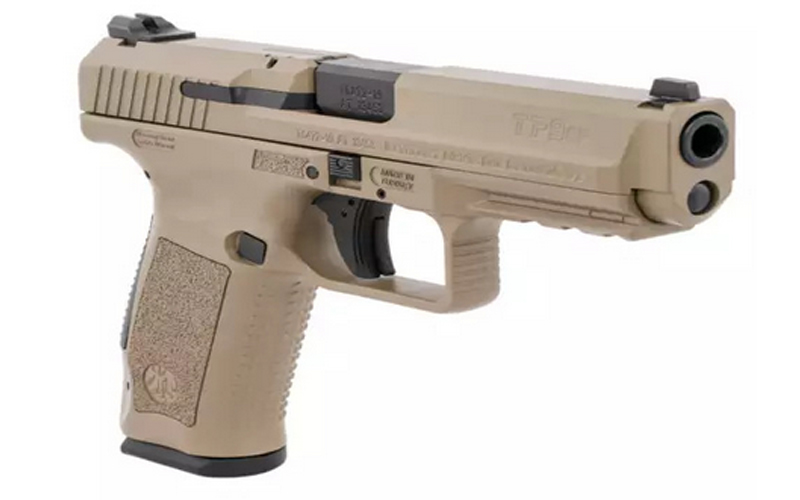 Image Credit: https://www.scheels. com
It looks elegant with its FDE finish and black contrast parts. Rounding it off, the TP9SF comes with interchangeable grip back straps, reversible magazine catches, ultra-comfortable grip textures, and an accessory rail.
About Canik TP9SF
The Canik TP9SF is an excellent gun in value and quality. It is a Turkish made handgun and has become the standard weapon of the Turkish military.
The Canik TP9 series of 9mm pistol were initially not taken seriously by many gun owners when they were first introduced to the market. The American consumer was unfamiliar with the brand, plus the pistols were expensive.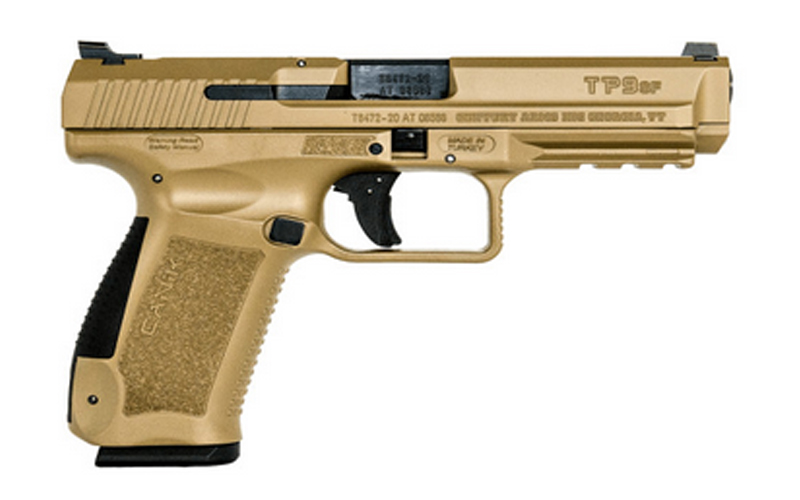 Image Credit: https://www.canikusa. com
Early models had many similarities with the Walther P99 at the time, such as being able to de-cock and function in single-action and double-action variants.
The TP9SF is a member of the TP9 family from Canik. Selections include the TP9EC, TP9SA, TP9SF Elite, and TP9SFx. All of these vary slightly between each gun. But all have the same quality and prices.
In this Canik TP9SF review, we will learn about the model's features, characteristics, pros, and cons.
Specialty
There are many pistols in the Canik TP9 series, including the TP9SFx, TP9SF, TP9SA, TP9SF Elite, TP9EC, and TP9 Elite SC. There is little difference between all of these.
The TP9SF comes in three variants: TP9SFx, TP9SF Elite, and TP9SF Elite-S. Elite and Elite-S carry two 15-round magazines, brushes, cleaning rods, interchangeable backstraps, belt/padded attachments, and poly holsters.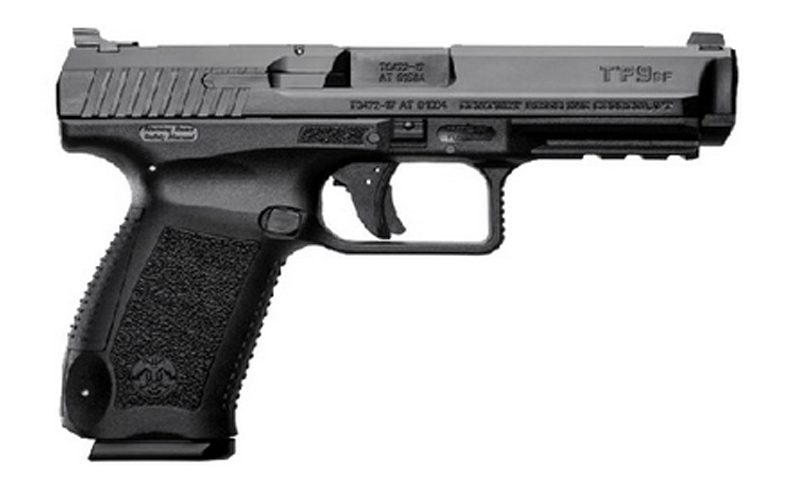 Image Credit: https://palmettostatearmory. com
All modifications are made from high-quality components and provide the same level of performance and comfort.
But as mentioned earlier, our primary focus in this review is the Canik TP9SF. Come on, let's start.
You get many good things in a quality pistol. The Canik TP9SF comes with a handsome foam-lined case, two 18-round magazines, Serpa style paddle holster, a mag loader, cleaning rods, an extra back strap, and a manual.
Canik TP9SF Features
Capacity: 18+1
Barrel: 4.46″
Overall Length: 7.5"
Width: 1.4"
Weight: 1.8 lbs
Height: 5.7".
Sights: 3-Dot Steel.
Finish: Black Cerakote.
Safety: Trigger blade.
MIL-STD-1913 Picatinny rail.
Construction & Design Of Canik TP9SF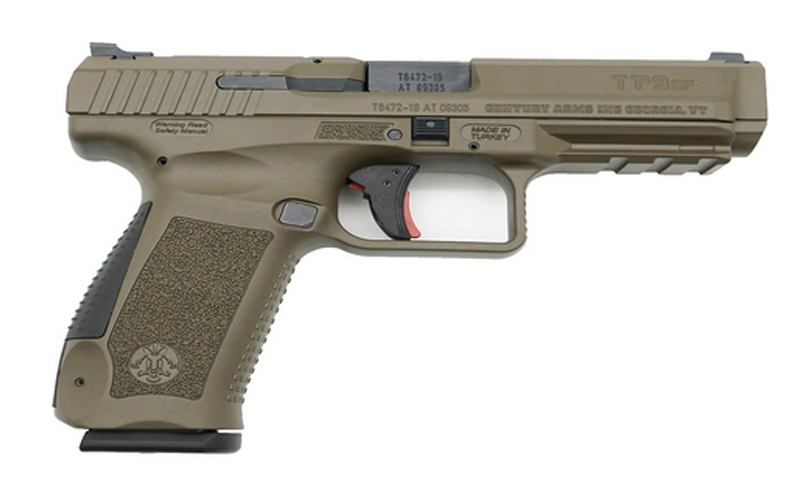 Image Credit: https://gun. deals
The slide of the gun being slanted along its length gives you a better field of view.
The sights have a three-dot design. However, they need to have options available on SA.
The TP9SF model also features a vertical hash mark in the center of the rear sight, making alignment and focusing easier when shooting at close range.
This makes the unit extremely user-friendly.
The TP9SF has a trigger mechanism, again different from the SA model.
After analyzing Canik TP9SF, it is concluded that it works amazingly and gives extraordinary results.
Firing using the TP9SF feels like using a Sig P320 or G17.
Accuracy
For accuracy, the Canik TP9SF is good, although the trigger is stiff and has good recoil,
The 3 points don't line up perfectly, which can be annoying, although it's easy to fix.
The manufacturer has also introduced a load compartment indicator to increase user safety.
Barrel Length
The TP9SF has an extended barrel with a 4.47-inch sight radius, handling was smoother; it increased velocity and improved accuracy.
However, the recoil was easier to control and manage, although it felt a bit front-heavy, and the recoil control was a bit off, with most of the weight slung up front. However, this was not a significant problem.
Caliber
The TP9SF is a 9mm caliber that is great to shoot. They are perfect to use. Furthermore, wide varieties of 9mm ammunition are available on the market and are inexpensive.
Ability
TP9SF model includes 18+1 capacity 9mm mag.
The handgun has two options for backstrap panels. However, you can't see any difference from the SA model, although the pin holding the pistol panel is black.
The Canik TP9SF handgun uses Mec-Gar brand magazines. Due to this it has the capacity to accommodate 18 rounds.
Canik TP9SF Pros and Cons
Pros
Excellent value for money.
Well-built.
Accurate.
Affordable.
Awesome Trigger.
Awesome Trigger.
Cons
A bit tall in the hand.
Some users may not like its looks.
FAQs About Canik TP9SF Pistol
Q. What does canik stand for?
Ans. "Canik" is a word in the old Turkish language meaning "a place of refuge".
Q.Does Police & military use the Canik?
Ans. Recently Canik TP9SF has also won the National Pistol Program. Yes, these pistols are being used by the army and police. It is also on sale in many countries and is used by local law enforcement, civilian shooters, and private security operators worldwide.
Q.How much does the Canik TP9SF cost?
Ans. All Canik firearms are priced in cheaper territory, and the Canik TP9SF Elite is no exception at over $400.
Q. Which Canik won Gun of the Year?
Ans. TP9 Elite Combat Canik, a global manufacturer of pistols and accessories, received a 2019 Industry Choice Award for Pistol of the Year for the TP9 Elite Combat.
Final Words With Conclusion
We hope you enjoy this review. According to this analysis, the Canik TP9SF has some real advantages. And despite its low price, the gun offers a fun experience for shooters of all levels. The Canik TP9SF is developed with high and precise standards. The exceptional trigger and the pistol's low price make us think the Canik TP9SF is one of the many, top pistols on the market.
There are many sellers of Canik TP9SF handguns online. Here at Online Gun Store we have listed gun deals from industry top sellers. Find & compare in-stock deals for all popular handguns including; revolvers, AR-15 pistol, Ak-47 pistol, 1911 pistol & many more.Browse now to find & compare the best handgun for women & men.