They are popular because they are reliable, easy to use, and have a long history. Developed initially as a military weapon, today, it has become one of the most popular civilian weapons on the market.
This guide will tell you everything you need to know about this iconic weapon. We'll start with history, features, types, and a buying guide.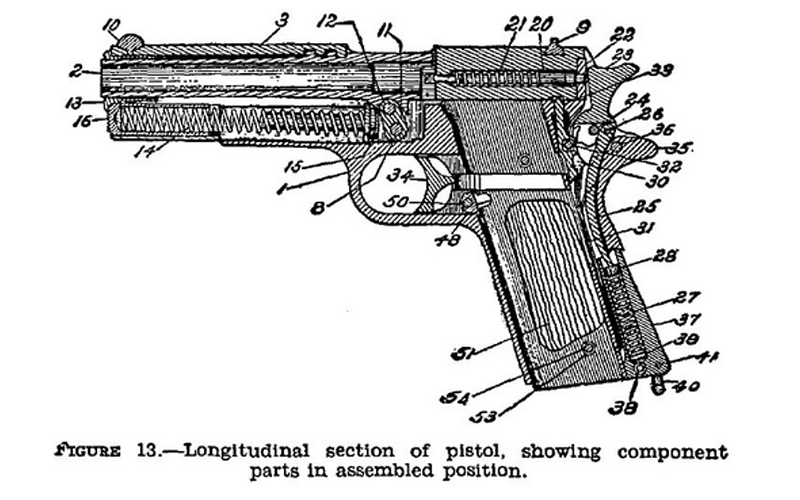 Image Credit: https://en-academic. com
We then move on to the best 1911 pistol, which will go on sale in 2023. Let's start with the history and commonalities of these classic pistols.
About 1911 Pistol
The 1911 pistol is actually called M1911, also known as Colt Government. The pistol was originally created by John Browning, who also created the Browning Hi-Power and later sold the design to Colt.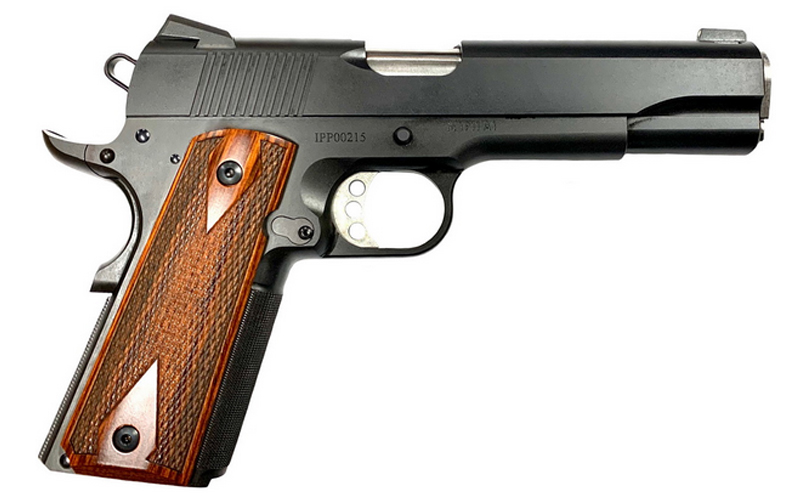 The pistol was developed on March 29, 1911, hence the name "1911". The 1911 is a single-action, magazine-fed, recoil semi-automatic pistol, originally chambered in .45 ACP.
It served as the standard pistol for the US Armed Forces from 1911 to 1985. Today, they are among the most popular for everyday wear, sport shooting, target shooting and other sports, as well as for collectors.
The Model 1911 still works and works well as a heavy plinker, concealed carry or self-defense weapon and probably always will.
Features Of 1911 Pistol

Image Credit: https://www.thefirearmblog. com
| Barrel length | Government model: 5.03 in (127 mm) Commander model: 4.25 in (108 mm) Officer model: 3.5 in (89 mm) |
| --- | --- |
| Cartridge | .45 ACP |
| Action | Short recoil operation |
| Muzzle velocity | 830 ft/s (253 m/s) |
1911 Pistol History

The 1911 was designed by John Browning who designed it in the 1890s. and was purchased by the US Army under contract in 1911. Pistol M1911 has been in service since being adopted by the US Army in early 1911.
1911 - the creation of the legendary gunsmith John Browning. He served for over a hundred years. The pistol served as the standard weapon for the US military from 1911 to 1985.
It was widely used in World War I, World War II, the Korean War and the Vietnam War. The M1911A1 was replaced by the Beretta M9 9mm pistol as the standard weapon of the US military in 1985.
How The 1911 Pistol Works

The 1911 is a semi-automatic, magazine-fed, recoil-operated, single-action pistol typically chambered in .45 ACP.
The pressure of the flue gasses pushes the bullet down the barrel at an average speed of 850 feet per second. The empty case is then ejected with a blow from behind, the breech being pushed forward by the action of the spring and pulling a new round from the angled magazine, placing it in the chamber.
The strength of the 1911 pistol is due to the lack of fasteners, with the exception of some grip screws. The return spring holds important components in place.
The best thing about this pistol is that it can be taken apart and reassembled using its components as tools. Some 1911 pistols have rails for mounting optical sights and other hunting or sporting attachments, making them the weapon of choice in many competitions.
Pros & Cons Of The 1911 Pistol
The benefits of the Model 1911 pistol include:
Excellent Trigger: The 1911 easily adjusts to the crisp and clean 4-4.5 lb trigger pull I use in the USPSA Single-Stack Division and can be adjusted to the 2-3 lb range for a regular NRA pistol." apple") of the contest. I think the usual recommendation for combat pistols is in the 4.5-5 lb range, which again is easily achieved.
Ergonomics: The angle of the 1911's grip to the frame, the relatively narrow grip circumference, and the large aiming radius make this weapon comfortable for many of us. With the usual addition of fine serrations on the front and rear frame straps, as well as aggressive serrations on the grip, I find the 1911 to be fairly easy to handle, despite the .45 ACP cartridge's undeserved reputation for excessive recoil.
Accuracy: 1911 is used in pistol shooting competitions with targets up to 50 yards. While shooter skill is certainly critical in this competition, I have no doubt that the 1911 can be tuned, tuned and improved to perform with exceptional accuracy.
Weight. Weight can be seen as an advantage of a sporting shotgun because it helps deal with recoil, and also a disadvantage of a combat shotgun because you have to carry the extra weight. For competition, USPSA rules limit the 1911 to 43 ounces (with an empty magazine). Compare that to the Glock G21 (Gen3) which weighs in at around 27 ounces.
Choice of Manufacturers and Parts: The Model 1911 is backed by a huge selection of aftermarket parts as well as a number of current handgun manufacturers including Colt, Remington, Ruger, STI, Ed Brown, Para-USA, Springfield Armory. , Wilson Combat, Kimber, Les Baer Custom, Sig Sauer, Taurus, Smith & Wesson, Rock Island, Nighthawk and probably a dozen other smaller specialty stores.
Variety: The Model 1911 is available in a variety of configurations, from a smaller frame to an oversized frame, and in a variety of calibers including 9mm, .40 S&W, .38 Super, and .45 ACP.
Reliability: For my purposes, the 1911 was very reliable, but I use the gun in a very narrow range: competition and training for competition. My 1911s are cleaned after each use and checked regularly. The only crash I saw was directly caused by a bug on my part.
Disadvantages
Lack of real standardization. Although many manufacturers produce "standard" 1911 models, which are often government copies. In doing so, they break the standard and make their parts and weapons less interchangeable with other 1911s.
1911 Pistol Sizes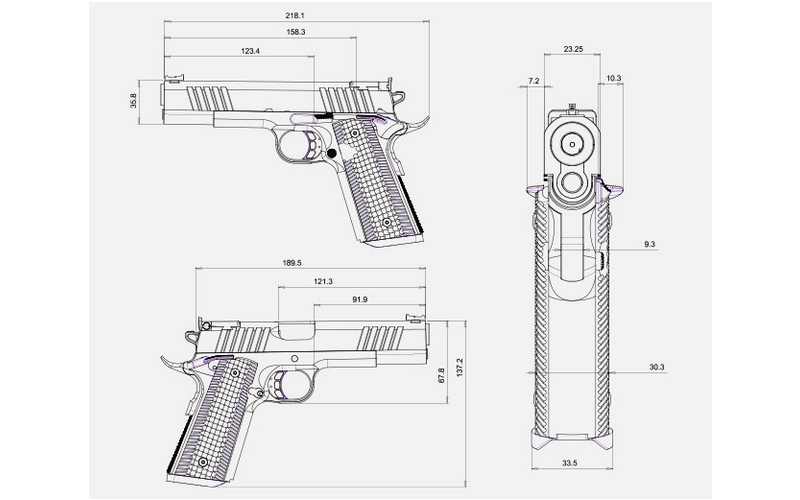 Image Credit: https://oryxarms. com/
There are many different terms used for different sizes of 1911s. There are 5 main styles in which they can be grouped.
Long slide - 6" slide on a full length frame.
Government - 5" shutter with full frame. A standard flush magazine usually holds 7 rounds.
Commander - 4.25" slide with full frame. Some manufacturers use a 4" action, but these are commonly referred to as "Commander".
Concealed Carry Officer or CCO - 4.25" slide with officer's frame.
Officer - 3.5" slide with officer's frame. The officer has a shorter frame and standard flush magazines hold 6 rounds. 3-inch breech blocks are also often referred to as "officers''.
1911 Pistol Models
The most famous, popular and reproduced pistol design of all time, the 1911 pistol comes in different models. Every type of model has different specifications.
1911 Ronin® Handguns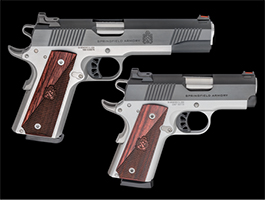 With an unwavering commitment to ruggedness, reliability and quality, the Ronin® 1911 combines a heritage of service with features demanded by today's shooters.
Features:
Tactical Rack Rear Sight
Crossed Cannon Wood Grips
Hammer Forged Barrel
Extended Magazine W/ Base Pad
Fiber Optic Front Sight
Grip Safety
Ammo to use: 9mm, .45ACP & 10MM
1911 Garrison Handguns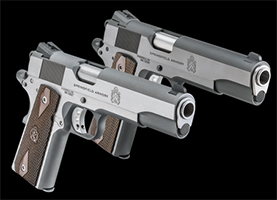 With forged materials and heirloom-worthy construction, the Garrison 1911 pistol combines modern materials and design with a legacy spanning over a century.
Features:
Thinline Grips
Low Profile 3-Dot Sights
Extended Thumb Safety
Skeletonized Hammer
Single Stack Magazine
Extended Beavertail
Ammo to use: 9MM .45ACP
1911 Operator® Handguns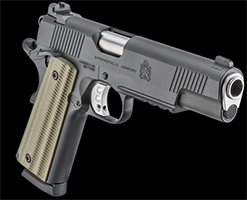 For those who require a strict approach to their defensive pistol, the Operator 1911 in .45 ACP is ready to provide everything you need.
Features:
Ambi Safety
Tritium Front Sight
8-Round Mags W/ Base Pad
Forward Serrations
Skeletonized Hammer
Black Cerakote® Finish
1911 Emissary Handguns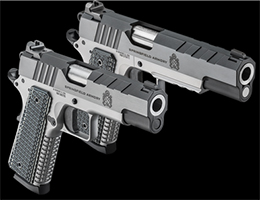 The Emissary combines defensive and custom pistols, making a bold and effective addition to the 1911s Springfield Armory family.
Features:
Skeletonized Hammer
Solid-Body Flat-Faced Trigger
Flat Top Slide Serrations
Accessory Rail
Magazines Included
U-Dot™ Sight Picture
Ammo to use: 9MM .45ACP
1911 Vickers Tactical Handguns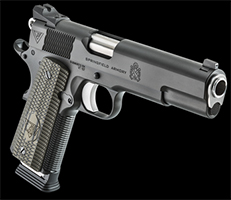 Springfield Armory® is proud to introduce the new Vickers Tactical Master Class 1911, an exclusive offering from distributor Lipsey®.
Features:
Solid Aluminum Match Trigger
Cerakote® Finish
Woven Slide Serrations
8-Round Vickers Duty Magazines
Wilson Combat® Hammer & Safety
G10 Grips
Ammo to use: .45ACP
1911 Mil-Spec Handguns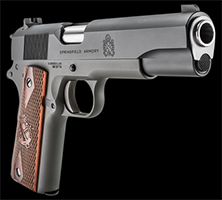 For those looking for a quality, authentic 1911, Mil-Spec offers exceptional value and undeniable pedigree.
Features:
Stainless or Parkerized Finish
Match Grade Barrel
Arched Mainspring Housing
Fixed Combat 3-Dot Sights
Short Military Combat Trigger
Crossed Cannon Cocobolo Grips
Ammo to use: .45ACP
1911 Loaded Handguns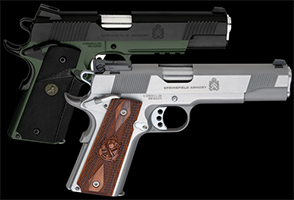 After 100 years of perfecting the venerable 1911, Loaded pistols offer a fully functional 1911 at a reasonable price, ready to go right out of the box.
Features:
Forward Slide Serrations
Extended Beavertail Safety
Match Grade Barrel
Ambi Thumb Safety
Tritium 3-Dot Sights
Speed Trigger
Ammo to use: 9MM .45ACP
1911 EMP® Handguns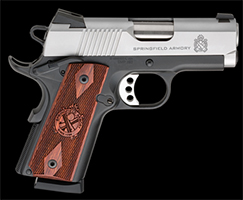 The patented EMP, nestled between the full-sized 1911 and 911, is exactly what you need. The 1911 EMP® is designed from the ground up for 9mm cartridges, bringing you the compact and handy 1911 designed for CCW.
Features:
Forged Frame and Slide
Lightweight
3 Magazines Included
Fully Supported Bull Barrel
Ambi Thumb Safety
Posi-Lock Checkering
Ammo to use: 9mm
How To Choose the Best 1911 Pistol?
So, with all the options above and all the different types of 1911 pistols on the market, how do you go about choosing the best 1911 pistols? When it comes to choosing, things can get a little overwhelming. In this section, we will give you the factors you should take into account before deciding on the 1911s.
Application
There was a lot of variety in the 1911s. It is a versatile model with many applications. 1911s are perfect for sport shooting, self-defense, concealed carry and even hunting. Before choosing your next pistol, you first need to know how you will be using it.
Size & Weight
1911s come in a variety of shapes and sizes, but for the most part they are slim profile and easy to handle. Before you choose your pistol, be sure to get your hands on it and see how it feels. Size matters, and in the world of shooting, one size doesn't fit all. If you want to own the 1911 for everyday wear and want to be able to hide it, the compact and subcompact dimensions are the way to go.
Work Efficiency
Functionality is important for any firearm. Before choosing your next 1911, ask yourself, "How easy is it to use?" Can you take your 1911 and drive it quickly? Practicality and comfort are important factors when choosing the Model 1911.
Capacity
Capacity is an important characteristic when it comes to firearms. In some situations, a reboot is simply not possible, and timing is everything. There are pros and cons for both single and double magazines. Single stack magazines are light, hidden and easy to handle. But a smaller magazine means less capacity. This is a numbers game for double stack magazines.
Caliber
1911s are produced in a variety of calibers. Each shooter has different needs and different shooting abilities. Finding the right caliber is another important decision you must make when choosing a 1911.
Top 5 1911 Pistol For Sale
Tisas 1911 Duty B45 45 ACP Full-Size Pistol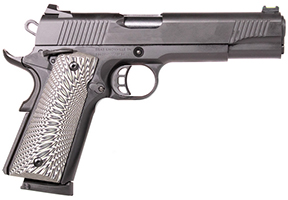 The 1911 Duty B45 is an affordable, full-featured 1911 black Cerakote finished single action pistol chambered in 45ACP by Tisas. The Model 1911 Duty features an extended ambidextrous thumb safety and a secure extended beavertail style safety with improved hammer and trigger. This attractive 1911 full size service pistol is sure to satisfy your 1911 itch without breaking the budget.
Features:
Extended Beavertail Grip Safety
Ambidextrous Safety
Skeletonized Hammer and Trigger
Finger Relief
Hammer Forged Full-Size Frame and Barrel
Overall Length: 8.62"
Magazine Capacity: 8+1 (comes with two)
Sights: Fiber Optic Front; Serrated Rear
Pros
Very solidly constructed. Shot accurately right out of the box.
Great fit and finish.
Firearm has excellent machine work and its assembly is flawless.
Rock Island 1911 GI Standard FS 9mm Pistol - 51615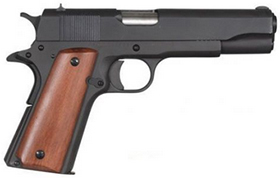 Good 1911 pistol for the price. It is well balanced and the response is surprisingly better. It has a 9mm caliber and is built to our exacting engineering standards. Fixed, low profile sights and the traditional sleek slim design are ideal for fast holstering.
Features:
A durable parkerized finish.
Low profile sights and traditional smooth slim design
True to all Rock Island 1911s
GI Standard comes with a crisp factory 4- to 6-pound trigger
Caliber: 9mm
Capacity: 9
Sights: Fixed
Barrel Length: 5"
OAL: 8.56"
Height: 5.5
Pros
Awesome pistol for us old school farts.
Great price, excellent quality!.
It's balanced well and the recoil is surprisingly nicer.
All Authentic Model 1911s have Thumb Safeties, just as John Browning designed them.
Taurus Pt-1911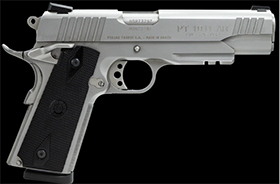 The Taurus 1911 pistol is an affordable gun, manufactured in Brazil, hand-fitted for accuracy, with a dovetail sight, lowered and flared ejection and 5″ barrel.

Each version of the Taurus 1911, available in a variety of calibers, features a ventilated and lighter trigger and a black grip. The beavertail safety grip is a great feature for users looking for a firearm for self-defense or competition.
Features:
Synthetic Grip Stainless Steel
SINGLE ACTION
8 ROUNDS Capacity
5 BARREL length
2 LBS. Weight
Pros
A good crisp short trigger completes the ensemble.
Good for safety due to the ambidextrous safety and Taurus' special system on the hammer.
Great price and a high-quality
Cons
Slide is a little looser.
Pistol is much larger.
Ruger SR1911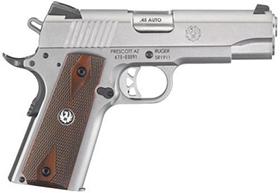 Ruger 1911 single action only. It also has features such as a beavertail safety and a manual thumb safety. The Ruger SR1911 also features a sear cutoff, bolt lag and a half-cock position. To improve quality, the stainless steel barrel and sleeves are produced from the same bar and on the same machine. The Ruger SR1911 pistol features a titanium firing pin and a heavy firing pin spring without compromising trigger pull.
Features:
Precision CNC-controlled machining process
Positive barrel lock-up
Traditional design with replaceable grip panels
Lightweight, aluminum, skeletonized trigger features
Oversized beavertail grip safety
Extended thumb safety
Classic, original 1911 Series 70 design.
Pros
SR1911 is a good handgun, verging on great, and a fantastic value .
The appearance of the SR1911 is flawless.
Extended thumb safety and a modern beavertail-type grip safety.
Easily the strongest modern revolver.
Cons
The SR1911 trigger is not great.
Chiappa 401.038 1911-22 Semi Automatic Handgun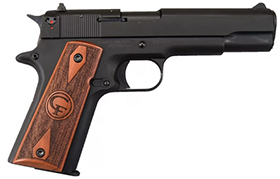 If you are looking for an affordable 1911 pistol , the Chiappa 1911-22 is your solution. The Chiappa Model 1911-22 has the same weight and handling characteristics as the original Model 1911, with a redesigned action using a fixed barrel design for very high accuracy at an affordable price.
Features:
Chiappa Firearms 1911-22 semi-automatic rimfire handgun
.22 Long Rifle caliber
5" barrel
6 grooves
1x16 twist
10 round magazine
Wood grips
Cheap Alloy and steel frame
Black finish
10" overall length
32 oz.
Pros
Nice option to practice with. Has a soft recoil spring that gives you a nice muzzle rise.
Nice sights and wood grip.
Smooth slide, nice weight, good looking.
Cons
The lower grain doesn't push the slide back all the way.
Handle a little thick.
FAQ About 1911 Pistol
Q: Is a 1911 a good carry gun?
Ans: The simple answer is Yes. But you must know which particular 1911 models might be best for you.
Q: Is the 1911 too big & heavy to use?
Ans: Weight can be a concern for the novice 1911 user. The pistol, with its slim grip, narrow slide profile and heft, has allowed many smaller-statured shooters to pick the 1911 as their sidearm of choice.
Q: Which 1911 should I buy?
Ans: There's a different flavor of 1911 for every type of person. Some pieces are highly collectible due to their history. We recommend buying a 1911 from a reputable company with a long history of manufacturing 1911s and a good warranty.
Q: Best Caliber for the 1911?
Ans: The most common caliber for the 1911 is the .45 ACP. 9mm and .40 S&W are other options for 1911 pistols.
Q: 1911 pistol price?
Ans: There are not any specific prices defined for 1911 pistols. Prices may depend on the seller's deals & discounts. An average price of $496.99 new and $325.75 used.
Final Words
The 1911 pistol is an iconic, effective and time-tested pistol. They are as American as it gets and a fantastic piece of history.
Hope this buying guide will be helpful to choose the best 1911 pistol for 2023.
Find the best 1911 pistol for sale at Online Gun Store. Product listing available from Industry top sellers.
Find best deals for 1911 9mm pistol, 1911 airsoft pistol, Glock 19, Glock 17, Sig Sauer P938 & other handgun, rifle & shotguns.