What is an AR-15 Pistol?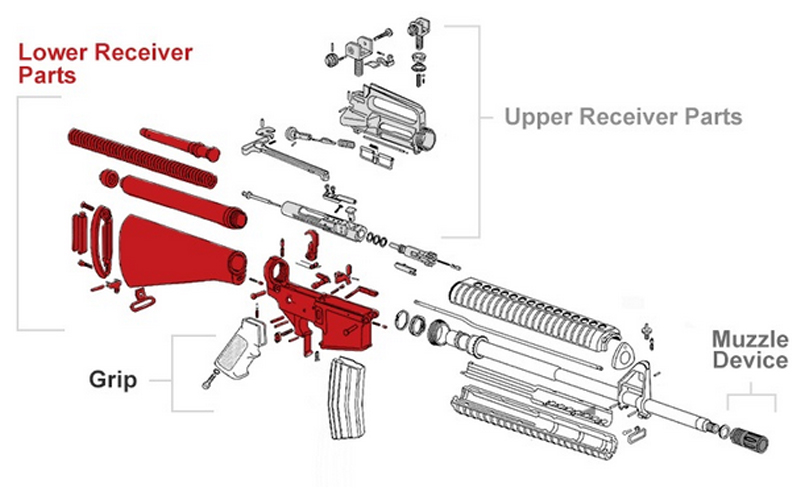 Image resource: https://www.wingtactical. com/
An AR-15 pistol is an excellent choice for either home defense or tactical training purposes.
An AR 15 Pistol is a 'pistol' variant of the AR-15 , featuring a barrel shorter than 16 inches.
Because of its compact size, these pistols are quite handy in small tight spaces. The most common caliber used for these pistols are .223, but other variations exist, including 9mm.
AR-15 pistols are short, light and effective. Well suited for hunting long distances and tight spaces, the AR pistol's versatility also makes it a great project weapon for your workshop.
The accuracy of the AR-15 pistol compares favorably with other pistols. Its light weight makes retargeting much faster, so your accuracy should be as good with the AR-15 as with any other pistol.
What does ar stand for in ar-15?
The AR in the "AR-15" rifle stands for the ArmaLite rifle. Reflecting the company name (ArmaLite) the original manufacturer of the weapon .
The name is used in honor of the company that developed it in the 1950s.
ArmaLite developed this weapon in the 1950s with the original intention of using it for military purposes.
Some people refer to the "AR" as "assault rifle" or "automatic rifle". It should be clear to you that AR-15 type rifles are NOT "assault weapons" or "assault rifles". Assault rifle fully automatic - machine gun. On the other hand, automatic firearms have been strictly prohibited to civilian owners since 1934.
If someone calls an AR-15 rifle an "assault weapon", correct them. "Assault weapon" is a political term created by California anti-firearms lawmakers to ban certain semi-automatic rifles in the 1980s.
Now it must be clear for you what does the ar in ar-15 stand for?
Why Buy An AR-15 Pistol?
Less restricted than an SBR.
Small & maneuverable
Regulated like a handgun according to your state laws.
Packs a high power round in a small platform.
Over the last few years, the popularity of AR-15 pistols has grown significantly.
AR style pistols excel in home defense, competition shooting, and for hiking or hunting.
AR pistols give you the benefits of SBR without having to wade through the morass of paperwork and rules associated with NFA items.
Pros & Cons of Having An AR-15 Pistol
Pros
Ar 15 pistol is lighter than your average AR 15 rifle.
Ar 15 pistol accuracy is good as compared to other handguns.
Easy customization. The opportunities for modification & customization are endless.
Short, lightweight & effective.
Easier to hit your target.
Easy to control and shoot.
Cons
Not as accurate as an AR 15 Rifle.
It takes two hands to operate.
Price
Sound
Are AR 15 Pistols Legal?
Yes, AR 15 pistols are legal (in most states) and are regulated by the ATF just like any other pistol. There are exceptions and more restrictive rules in California, among other states.
But the AR-15 pistol is only allowed to be owned by ordinary US citizens without a stock.
In most regions, AR 15 pistols are legal and you can carry them in your car. This is a convenient and enjoyable option if you are a weapon lover.
Are AR-15 Pistols Good For Self-Defense?
In general, the AR-15 platform is great for self-defense. Because the overall length is smaller than that of a rifle, it's easier to conceal in your home.
The AR-15 pistol may even be better for self-defense, as the shorter barrel makes it easier to handle firearms inside a building.
However, if you need a firearm that is more manageable in the home, the AR-15 pistol is the most economical way to get a compact AR model firearm.
What Are The Best AR Pistol Calibers?
300 Blackout
Designed for short barrels, the 300 Blackout is truly one of the kings in the world of AR pistols. Perfect for suppression, complete powder combustion in just 6 inches, that's pretty cool.
While you can use the super short 6″, I prefer to stay over 9″ just to make sure you have enough grip to get a grip on and run the supers with a little less concussion.
6.5 Grendel
This may surprise you, as it is usually a "long-range" AR-15 caliber. But amazingly, the 6.5 Grendel actually performs well from a shorter barrel while still providing longer range.
A 6.5 caliber Grendel pistol wouldn't be my choice for home defense, but if you're looking for a small and really handy boar gun, then the 12-inch Grendel is a better contender.
5.56 NATO
The classic is still great even with a shorter barrel. Just be aware that you are losing a lot of the ballistic potential of a 5.56 caliber short barreled pistol. It's perfectly fine for short distances like home defense, but trying to hunt with it or reach out can be a real hassle.
Also note that the shorter you go, the bigger and meaner the fireballs will be. The suppressor is perfect, but the line comp is a decent second if that's all you can do.
458 SOCOM / 50 Beowulf
They are big, they are bold, and if the bullet doesn't stop your target, maybe a concussion! From a ballistic point of view, they are almost the same, but 50 Beowulfs have a slight advantage over 458 SOCOMs.
Top 5 Best Ar-15 Pistols For Sale
Are you looking for the best AR 15 pistol of sale? These are some of the best AR-15 pistols we found so far:
Palmetto State Armory 10.5" AR-15 Pistol

Palmetto State Armory (PSA) has built itself an excellent reputation for manufacturing Ar-15 pistols.
The overall appearance of the pistol is impressive with a consistent finish along the length of the weapon from the handguard to the upper receiver.
The handguard attachment system consists of two detents, three screws, and ears for alignment, and when everything is in place you can tell that it is going to remain secure.
Features:
Muzzle Device: A2 Flash Hider
Receiver Material: Forged 7075 T6 Aluminum
Receiver Type: A3
Handguard Type: PSA 9" Lightweight M-Lok
Lower Receiver: Forged 7075 T6 Aluminum
Receiver Finish: Hardcoat Anodized Black
Fire Control Group: Single-Stage, Enhanced Polished Trigger
Pros
Excellent appearance
Cost effective
Superior recoil absorption and control
Springfield Armory Saint Edge Ar-15 Pistol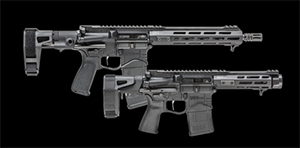 If you're looking for the best compact AR pistol options, then the 5.56mm SAINT Edge pistols must be in your list. These self defense legends provide maximum mobility and ease of use in close combat where it matters most. The next time you need to deliver in a pinch, you'll be in safe hands with SAINT Edge pistols.
With compact barrels ranging from the 10.3" lightweight CMV barrel with 1:8 twist to the ultra-compact 5.5" CMV barrel with 1:7 twist, these pistols are handy, comfortable and versatile. Get ready - these Edge models are ready to deliver compact firepower for self-defense.
Features:
Machined Billet Lower
Rugged Barrels
Nickel Boron Coated Flat Trigger
Enhanced Bcg
Sa Mid-Size Charging Handle
Ambi Safety
Pros
Best entry-level AR-15 that is easy to use and customize
High reliability
Perfect for sporting or home defense
AMBI Safety
Faxon Bantam AR15 Pistol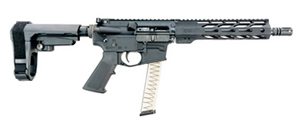 Faxon Firearms is well known for bringing quality and value to their customers. Faxon's Bantam 10.5" AR15 is the perfect choice for a self-defense tool, excellent small game performance, and tons of fun.
Features:
10.5" 9mm Barrel - Nitride Coated
Enhanced Forged Receiver Set w/ Tensioning Screw
Last Round Bolt Hold Open
Nitrided 9mm PCC BCG w/ Superfinish
SBA3 Adjustable Pistol Brace
Glock Magazine Compatible
Mil-Spec Charging Handle
A2 Pistol Grip
Weight: 5.72 lbs
Pros
Excellent Last Round Bolt Hold Back mechanism
Beautiful pistol for the price.
Proven reliability, good accuracy
Cons
While priced slightly higher than some other 9mm PCCs
Daniel Defense DDM4 VP (Law Tactical)

Daniel Defense is a legendary name in the AR-15 world. The AR15 style DDM4 V7P pistol combines a 10.3" barrel and MFR 9.0 M-LOK rail for fast handling, accuracy and reliability. Provides compatibility with a wide range of muzzle devices and silencers. This pistol features an ergonomically designed Daniel Defense pistol grip with integrated trigger guard and soft surfacing.
Features:
Muzzle Device
Cold-Hammer Forged Barrel
Ambi Safety Selector
Sob Pistol Stabilizing Brace
Law Tactical Folding Adapter
M-Lok
Pros
Very well built and compact weapon with a great design
Fits, finish and quality of this rifle is far superior
Excellently made and has never failed to perform after 1,000+ rounds
Sig Sauer Mcx Virtus AR Pistol

SIG Sauer is a well known name for building high-quality firearms, rifles and pistols like AR-15 pistols.
The MCX Virtus pistol was designed by SIG Sauer for optimum performance. The MCX Virtus also features SIG's proprietary Matchlite trigger that is incredibly smooth and crisp. The MCX also comes installed with numerous M LOK attachment points and a free float handguard.
Features:
Matchlite Duo Trigger
Folding SBX Pistol Stabilizing Brace
Comes in Stealth Gray and Flat Dark Earth
Reduced Recoil and a Compact Platform
Reduced Recoil and a Compact Platform
Cold hammer-forged barrels
Stealth Gray and Flat Dark Earth
Pros
Performed reliably, accurately, and smoothly
Very accurate at 50 to 100 yards
Lightweight, easy on the shoulder with a single point sling
Cons
No one realistically expects ammo to be included with a gun.
So, these are some basic points to know about Ar 15 pistol before buying.
Know if you are ready to buy an AR 15 pistol, find the best deals at Online Gun Store.
Browse thousands of guns by brand, make, and caliber. Wide selection of AR-15 pistols from well known sellers like; PSA Armory, Grab A Gun, Bass Pro, and many other gun experts.
Except that find & compare deals for all handguns, rifles & shotguns.