Ruger Mini 14 - Why Is This Centerfire Rifle Still Popular?
In the world of firearms, few names carry the weight and recognition that Ruger 14 does. Renowned for its commitment to quality, innovation, and reliability, the Ruger Mini 14 has captured the hearts and minds of shooting enthusiasts around the globe.
It's still in production today and remains popular with many shooters.
But… why?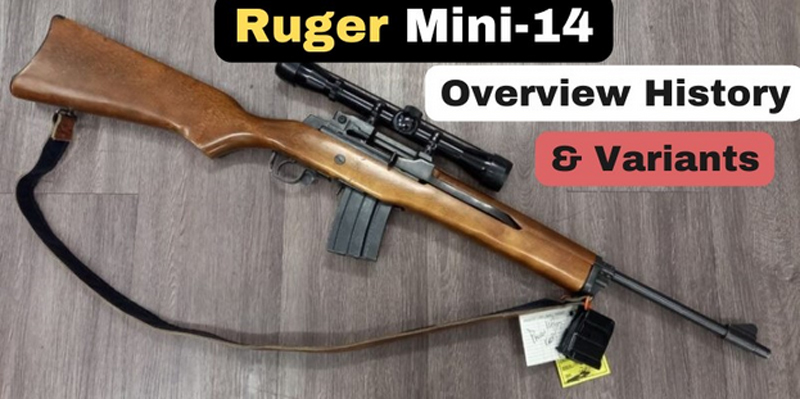 In this article, we will discuss the details "of why the Ruger Mini 14 quickly became one of the best-selling centerfire rifles in the country.
Let's jump into it…
Ruger Mini 14: A Quick Overview
Mass

2.9 kg (6.4 lb)

Length

446 mm (17.6 in)

Barrel length

330–559 mm (13.0–22.0 in)

Cartridge
.223 Remington
.300 AAC Blackout
5.56×45 mm NATO
7.62×39 mm
6.8 SPC
Action

Gas-operated short-stroke fixed piston, rotating bolt

Rate of fire
Semi-automatic mode: 40 rounds/min
Full-automatic mode (AC-556 variant): 750 rounds/min
Muzzle velocity

3240 ft/s (990 m/s)

Effective firing range

200 yd (180 m)

Feed system

5- to 30-round factory box magazine

Sights

Iron sights
An Overview: Ruger Mini-14

The Ruger Mini-14 is a modern rifle with a classic flair. Ruger's introduction in 1973 looks dated but is still in production today and well-loved by many shooters.
If you are looking for a good .223 rifle, the Ruger Mini-14 will be a great option with accuracy, ergonomics, reliability & price.
This lightweight rifle combined features from several other popular rifles, including the bolt from the legendary M1 Garand, the gas system from the M1 Carbine, and the trigger and magazine system from the relatively new M14.
History & Development: From M14 To Mini-14

The history and development of the Ruger Mini-14 rifle trace back to its predecessor, the M14. Inspired by the military M14 rifle, the Mini-14 was introduced by Sturm, Ruger & Co. in 1973 as a civilian version of this iconic firearm.
Over time, the Mini-14 underwent various transformations, including revisions to the hold-open mechanism, sights, and scope bases.
In 2003, a comprehensive redesign focused on improving accuracy, aesthetics, and production costs, leading to the evolution of the Mini-14 as we know it today.
Around 2007-2008, Ruger further improved accuracy potential by adding a heavier, larger-diameter barrel that tapered from the gas block to the muzzle, along with tighter tolerances.
The Modern Mini-14

With time, Ruger made many changes in the Mini 14 to keep it current. The modern mini guns are just as durable as ever, feature cold hammer-forged barrels, exhibit fine accuracy, and have a bunch of aftermarket accessories to help you customize your rifle.
Today, Ruger offers six models (not including distributor exclusives) of the Mini-14: three wood-stocked models, two blued steel, and one stainless. Under new leadership, Ruger's focus shifted to better serve defense-oriented customers.
Notably 2008, the company reintroduced 20-round magazines for the Mini-14, making them accessible to a wider range of users.
Ruger Mini 14: Key Features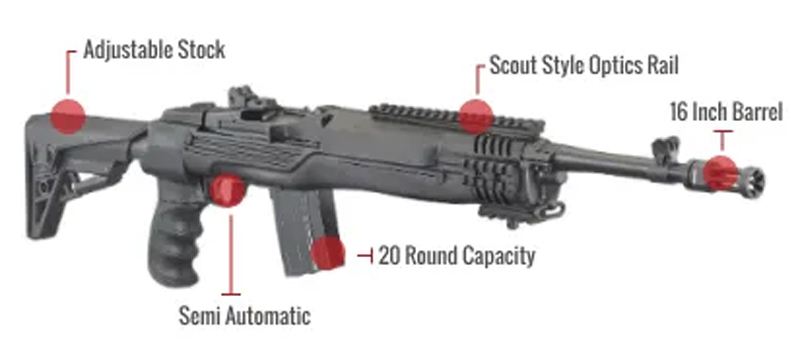 These rifles have a simple, Rugged, Garand-style action with a breech bolt locking system.
A fixed-piston gas system and self-cleaning moving gas cylinder give unparalleled reliability under harsh operating conditions.
Cold hammer-forged barrel results in ultra-precise rifling.
Integral scope mounts, machined directly on the solid steel receive.
These rifles have an accurate sighting system with a ghost ring rear aperture sight and a non-glare, protected blade front view.
These rifles have two magazines, Picatinny rail, and scope rings.
The receiver is drilled and tapped for mounting the included Picatinny rail.
Why Choose The Ruger Mini-14?
The Mini's popularity confirms its strong perceived relevance among a wide range of users, and sustained sales for more than 40 years prove its sound design.
Here are just five of the many reasons why a Mini Ranch, Tactical, Target, or Thirty models should be on your shortlist the next time you shop for a modern rifle:
If you are looking for an alternate for AR: If you're considering an alternative to the AR platform, the Ruger Mini-14 offers a combination of reliability, unique design, chambering versatility, improved accuracy, and customization options that might align well with your preferences and requirements.
The latest Mini's are more accurate: The latest Mini's are more accurate than the older models. This is due to several factors, including using a more rigid chassis, a more precise barrel, and better-quality components. This makes them more suitable for target shooting and other activities that require accuracy.
One of few semi-auto .223s available in stainless steel: The Mini 14 is one of the few factory semi-auto rifles available in stainless steel, which can greatly reduce the necessity for meticulous, immediate maintenance.
Available in .300 Blackout.: Ruger is offering Mini 14 in 300 Blackout. This makes the Mini 14 more versatile for those who would like to hunt with a Mini in areas that require a caliber greater than that of the .223 Rem.
Accuracy Enhancements: The Mini-14's accuracy has improved significantly over time. Redesigned gas systems, barrel enhancements, and improved manufacturing tolerances have achieved consistent accuracy. This means the Mini-14 can accurately shoot, especially with newer models.
Diverse Customization Options: The Mini-14 supports various customization options to tailor the rifle to your liking. You can personalize the Mini-14 to match your shooting style and preferences, from different stock materials and finishes to aftermarket sights and accessories.
Mini-14 Variants
Ranch Rifle

The Ranch Rifle model features a wood or synthetic stock and a blued or stainless steel receiver. It has a standard 18.5" tapered barrel, adjustable ghost ring rear sights, and a winged front view. This model includes a detachable Picatinny scope rail mount and offers a choice between 20-round and 5-round detachable box magazines to comply with varying state and country regulations.
Target Rifle

Introduced in 2007, the Target Rifle variant has a 22-inch cold hammer-forged heavy barrel and an adjustable harmonic tuner for precise accuracy adjustments. It's available with laminated wood or Hogue overmolded synthetic stock. Although it lacks iron sights, the Target Rifle includes standard scope rings and a Picatinny rail mount. It's designed exclusively for the .223 Remington round.
Tactical Rifle

The Tactical Rifle, introduced in 2009, has a 16.12" barrel featuring a flash suppressor. It's available with a standard fixed stock/forend or a collapsible ATI-brand stock with Picatinny rails. This model is chambered in both .223 Remington/5.56×45mm NATO and .300 AAC Blackout.
Mini Thirty Tactical Rifle

Introduced in 2010, this variant mimics the Mini-14 Tactical Rifle but is chambered in 7.62x39mm. It also features a 16.12" barrel with a flash suppressor and is available with a standard fixed stock/forend or a collapsible ATI-brand stock with Picatinny rails.
Government Models
The Mini-14 GB

The Mini-14 GB models have a pistol grip, side-folding stock, 20- or 30-round magazine, bayonet lug, threaded barrel, and flash suppressor. Some newer Tactical models continue to use "GB" without the bayonet lug, emphasizing the "government barrel" aspect. Though originally intended for law enforcement and military use, some have entered the civilian market.
AC-556

Introduced in 1979, the AC-556 is a selective-fire version of the Mini-14 designed for military and law enforcement use. It offers semi-automatic, three-round burst, and full automatic fire modes. It features a bayonet lug, flash suppressor, and options for folding stocks. Production ceased in 1999.
Straight-Pull Action

A limited number of straight-pull action Mini-14 and Mini Thirty rifles were produced for sale in the UK due to regulations banning semi-automatic centerfire rifles in 1988.
Ruger Mini 14 - Practical Applications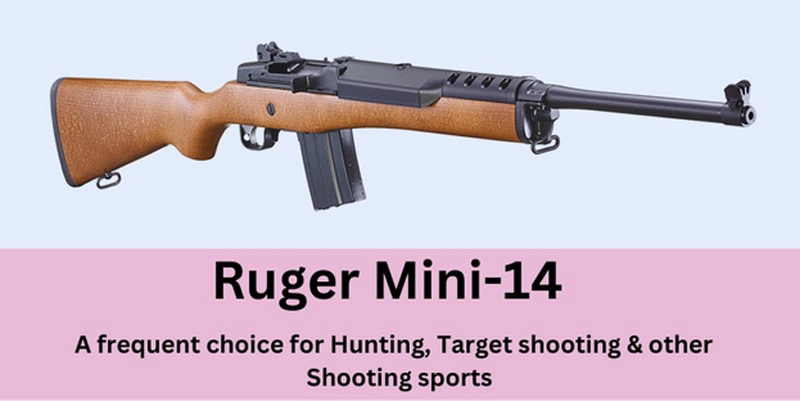 The Ruger Mini-14 finds its place in various practical applications, owing to its reliability, versatility, and user-friendly design. Here are some of the key practical applications where the Mini-14 excels:
Hunting: The Mini-14's accuracy, chambering versatility (including .223 Remington and 7.62×39mm), and lightweight design make it a suitable choice for hunting various game. Whether pursuing a small game with the .223 Remington or a larger game with the 7.62×39mm, the Mini-14's performance can meet the demands of hunting scenarios.
Sport Shooting: Mini-14 rifles are well-suited for sport shooting activities, such as competitive matches and target shooting. Their accuracy, ease of use, and availability in different calibers make them enjoyable and practical options for recreational shooting.
Home Defense: The Mini-14's reliability and straightforward operation make it a viable choice for home defense. The Ranch Rifle's compact size and compatibility with detachable magazines ensure quick and reliable access to ammunition when needed.
Tactical Training: The Mini-14's tactical variants shine in tactical training scenarios. These models offer features like adjustable stocks, Picatinny rails for accessories, and flash suppressors. They allow shooters to practice and train for self-defense and tactical situations.
Recreational Plinking: Mini-14 rifles offer an enjoyable shooting experience for casual plinking and informal target shooting. Their reliability and straightforward controls make them a favorite among those seeking uncomplicated enjoyment on the range.
Law Enforcement and Security: The Mini-14's history as a law enforcement and security firearm (particularly in its AC-556 variant) indicates its suitability for these roles. Its reliability, versatility, and easy maintenance make it a practical option for certain duty scenarios.
Community Shooting Events: Whether in a shooting club or community event, the Mini-14's approachable design and versatile chambering options can make it a welcomed choice for group shooting activities.
Legal Considerations And Ownership
A 50-State Legal Rifle
There are a few states – where AR-15s and similar rifles are banned or restricted. Most of these laws try to regulate guns based on certain features like pistol grips and adjustable stocks.
The basic Mini-14 without the flash hider has no banned features, so it's still legal in all 50 states.
There are also magazine capacity limits in those states, so in most cases, you're stuck with 10-round mags. Considering the other options in the ban states, a Mini-14 is a decent rifle.
You can make it work.
There are shooters in California, for example, who probably know more than anyone else about how to tweak and optimize the Mini to get the most out of it because that's what they've had to work with for years.
The ban on state sales alone could keep the Mini-14 in production for a long time. But that's not the only reason people like the Mini.
Mini 14 Caliber Options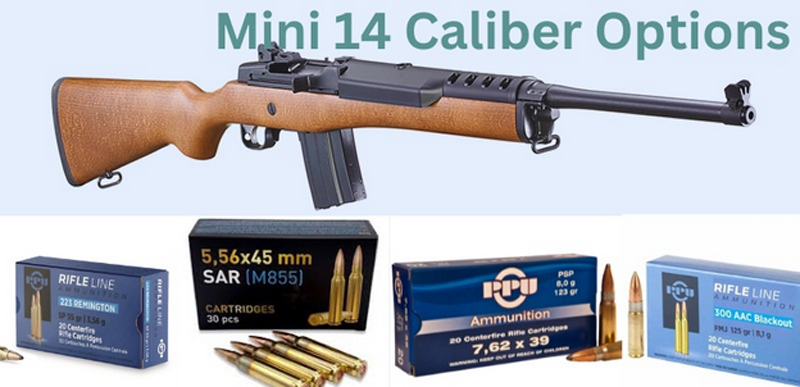 The Ruger Mini-14 is currently offered in three calibers:
.223 Remington/5.56 NATO: This is the most common caliber for the Mini-14. It is a popular and versatile cartridge that is available in a wide variety of loads. It is suitable for various purposes, including hunting, target shooting, and self-defense.
7.62x39mm: This larger caliber is more powerful than the .223 Remington/5.56 NATO. Hunting large game, such as deer and elk, is a good choice.
.300 Blackout: This newer caliber is designed for suppressed shooting. It is also a good choice for hunting and self-defense.
Ruger Mini 14- Price Range
The price range of a Ruger Mini 14 depends on the specific model and condition. Right now, a Ruger Mini-14 will run you anywhere from about $879 to over $1,000, depending on the model variant.
However, your actual price may be higher or lower, depending on where you buy it and the current market conditions.
A Ruger Mini 14 RANCH rifle is currently worth an average price of $957.60 new and $771.57 used.
The 12-month average price is $975.51 new and $774.67 used.
Find & compare the latest prices of ruger mini 14 here.
Mini 14- Effective Range
The effective range of a Ruger Mini 14 is typically considered to be around 200 yards.
The effective range always depends on your intended use, the specific model of Mini 14, the ammunition used, the shooter's skill, and the environmental conditions.
The Mini 14 can be accurate for 300 yards or more with good ammunition and a skilled shooter.
However, it is important to note that the bullet's energy will drop significantly at this range, making it less effective for hunting or self-defense.
Conclusion
After reading the detailed information about the Ruger Mini 14, I hope you will know "why it's still in production today and why it remains popular with many shooters.
The Mini-14 has played a significant role in firearms history. The U.S. military used it in the Vietnam War, and law enforcement agencies and civilians have also used it. The Mini-14 is a popular choice for home defense and is also used for hunting and target shooting.