The company's website is the primary resource for information about its products. The website includes a product catalog, where visitors can browse through different models of shotguns and other firearms. The website also has a section dedicated to customer service, where visitors can find answers to frequently asked questions and submit requests for repairs and warranty service. In addition, the website includes an online store where customers can purchase accessories and apparel for their firearms.
The website includes a blog that features articles, videos, and other content related to the responsible use of firearms. A section is also dedicated to current events and news relevant to the firearms industry. The website also provides resources for customers interested in learning more about firearms safety, maintenance, and storage.

Overall, the Mossberg website is a comprehensive resource for their customers interested in learning more about the company and its products. The website offers a wealth of information on firearms safety and maintenance and the ability to purchase accessories and apparel. By leveraging the resources available on the website, customers can ensure that they are using their firearms safely and responsibly.
History
Mossberg has been an American firearms manufacturer since 1919 and is now one of the world's leading firearms makers. Founded by Swedish immigrant Oscar Frederick Mossberg, the company is best known for its shotguns but also produces rifles, handguns, and other shooting accessories. The company has a long history of producing firearms for military, law enforcement, and hunting applications.
The company's first significant success came in the 1930s with the introduction of the Mossberg Model 500 shotgun. This pump action shotgun was lightweight and durable, making it popular for hunting and home defense.
In the 1960s and 70s, Mossberg began to expand its product line, introducing a variety of long guns, including rifles, carbines, and sporting shotguns.
They also started producing handguns and semi-automatic rifles, such as the Mossberg Model 100AT and the Mossberg Model 500 Bullpup. They also have a variety of other shooting accessories, including scopes, sights, and grips.
Facts About Mossberg Shotguns
Mossberg shotguns are the most popular and reliable shotguns available. Developed by O.F. Mossberg & Sons Company, these firearms have been in production for over 100 years and remain popular for hunters, law enforcement, and recreational shooters. Here are some facts about Mossberg shotguns.

Image resource: https://www.impactguns. com
The first Mossberg shotgun was the Brownie, which was released in 1919. This small four shot .22 caliber pistol was the first firearm produced by the company.
The first pump action shotgun produced by Mossberg was the Model 500, which was released in 1961. This shotgun was designed to be reliable, durable, and affordable.
The Mossberg 590A1 is the only pump action shotgun to meet the U.S. Military's Mil-Spec 3443E requirements. This shotgun is highly sought after by law enforcement and military personnel.
The Mossberg 590 Shockwave is a unique firearm with a 14-inch barrel and a pistol grip. This firearm is classified as a "firearm" and not a "short-barreled shotgun", making it legal to own in the United States.
The Mossberg 500 series is the most popular shotgun in the United States. There are dozens of variants of this shotgun that are available in a variety of gauges and configurations.
Mossberg has developed a variety of accessories for their shotguns, including stocks, barrels, and sights. These accessories allow shooters to customize their shotguns for their specific needs.
Mossberg is known for their innovative designs, such as the "Cantilever" barrel that allows for a scope to be mounted on the top of the barrel. This feature is popular among hunters and competitive shooters.
Mossberg Shotguns are manufactured in both the United States and Mexico. The company continues to produce high-quality firearms in both countries.
Top Selling Firearms Products By Mossberg
Mossberg is one of the leading firearms manufacturers in the United States, producing some of the most iconic and popular guns today.
One of the most popular Mossberg products is the 500-series shotgun. This shotgun is one of the most iconic and versatile firearms of all time and has been used in various applications, including hunting, home defense, and tactical operations. The 500-series is available in multiple configurations, from the standard pump action to tactical and specialty models.
The Mossberg 590 Shockwave is one of the company's most popular product. This pump action shotgun features a compact design that makes it easy to transport yet still provides the same level of reliability and accuracy as the standard 500-series. The 590 Shockwave is popular for home defense, as it is easy to maneuver in tight spaces and has a short overall length.

Image resource: https://www.mossberg. com
Another popular Mossberg product is the MVP rifle. The MVP is a bolt-action rifle chambered for .223 Remington and .308 Winchester cartridges. It is designed to be lightweight yet still provide reliable accuracy and performance. The MVP also features a patented design that accepts standard AR-15 magazines.
Finally, Mossberg's 535 ATS pump action shotgun is another top-selling product. This shotgun is designed for waterfowl hunting and features various features that make it ideal for the sport.
Mossberg has been producing some of the most reliable and popular firearms on the market for over a century. Their 500-series shotguns, 590 Shockwave, MVP rifle, and 535 ATS are some of the company's top-selling products and are used by various shooters for various applications.
Mossberg International 702 Compact Bantam Plinkster Blued Semi Automatic Rifle - 22 Long Rifle.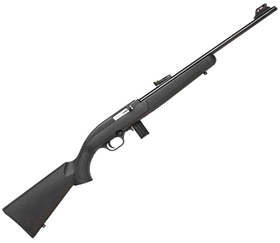 Image resource: https://www.sportsmans. com
Mossberg International 702 Compact Bantam Plinkster Blooded Semi Automatic Rifle - 22 Long Rifle - Whether hunting small game, taking severe marksmanship practice, or just poking around, the 702 Plinkster fits the bill.
The .22 LR caliber 702 Plinkster is built to Mossberg International's high-quality standards, combining the balance, feel, and accuracy of rifles much costlier.
SPECIFICATIONS
ACTION : Semi-Automatic
BARREL LENGTH: 18in
CAPACITY: 10+1
CARTRIDGE : 22 Long Rifle
FINISH : Blued
HAND : Right
LOP 12.25in
OVERALL LENGTH : 35in
SIGHTS : Adjustable Rifle Sights
STATE COMPLIANCE: California Compliant
TWIST : 1:16in
TYPE : Rimfire
WEIGHT : 4lbs
COMPACT : Yes
Mossberg 590 Tactical, Black Synthetic, Blue

Image resource: https://www.impactguns. com
The Mossberg 590 has earned a reputation for reliability and safety through decades of military and law enforcement use.
590 is the best for a personal home defense shotgun with the flexibility and modularity you need. This 590 Tactical with an 18.5" cylinder bore barrel is built to handle 3" 12 gauge shells.
The receiver design featured steel positive for bolt lock-up, dual extractors, and an anti-jam elevator. Combine this with the double action bar for smooth operation and flawless performance. Never underestimate your security! Get the 590 Tactical Now!
SPECIFICATION
Mossberg 590 Tactical 50778
Pump Action Shotgun
12 Gauge
18.5" Barrel
3" Chamber
7 Rounds
Ambidextrous Thumb Safety
Bead Sight
Dual Extractors
Positive Steel to Steel Lock Up
Cylinder Bore
Anti-Jam Elevator
Black Synthetic Fixed Stock
Matte Blued Finish
Length of Pull 13.875"
Overall Length 41"
Weight 7.25 Pounds
Mossberg 500 Tactical JIC FLEX Black 12 Gauge 3in Pump Shotgun - 18.5in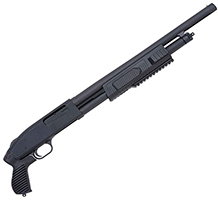 Image resource: https://www.sportsmans. com
Compact 18.5 barrel with three chambers, the Flex model features a sturdy Flex Black synthetic pistol grip and forearm. Fixed cylinder bore choke included flex pistol grip. Impact-resistant tube with strap.
SPECIFICATION
GAUGE : 12 Gauge
CHAMBER : 3in
CAPACITY : 5+1
BARREL LENGTH : 18.5in
FINISH : Matte Blued
STOCK : Flex Pistol Grip
CHOKE : Cylinder Bore
WEIGHT : 5.5lb
ACTION : Pump
HAND : Right
MOSSBERG 500 TURKEY - TACTICAL TURKEY 12 GAUGE PUMP-ACTION SHOTGUN.

This 12 gauge model has an all-over Mossy Oak Obsession camo finish. The 500 Tactical Turkey has a 20" vent-rib barrel with a 3" chamber. Each barrel is topped off with adjustable fiber optic sights and includes the X-Factor ported turkey choke tube to get the job done. It also has a 6-position flexible stock.
SPECIFICATION
A vast array of compatible accessories makes the 500 families of shotguns one of the most adaptable series available.
A dual comb stock, supplied with high-profile (for sighting with mounted optics) or low-profile (for sighting down the barrel) interchangeable combs
6-position stock with nearly a 4 inches range of LOP adjustment - through the use of the stock's integrated lever.
Dual extractor.
Anti-jam elevators ensure smooth operation.
Mossberg Flex 590 Tactical, Pump Action, 12 Gauge, 20" Barrel, 8+1 Rounds

This Mossberg Flex 590 Tactical Pump Action Shotgun features Mossberg's innovative Flex Modular System, so a single gun can serve a variety of shooting tasks. Swap your stock, forend, and recoil pads easily without using tools. So whether you're hunting small game, shooting traps, or protecting your home... you can count on the Flex 590 for all of your shooting needs. Tool-less Locking System modular system lets you easily swap stock, forend, or recoil pad.
SPECIFICATION
Cylinder bore choke
Strategic forest
Dual extractors
Twin action bar
Positive steel-to-steel lock-up
Anti-jam elevator
Equipped with swivel stud and recoil pad
Barrel length: 20"
Barrel finish: Matte blued
Stock: Adjustable synthetic pistol grip
Length of pull: 11" - 14.25"
Chamber: 3" chamber
Receiver Material: Aluminum
Sights: Bead
Overall length: 41"
Overall weight: 7 lbs.
Mossberg was awarded several patents for his designs, including the first patent for a pump-action shotgun in 1920. Mossberg's commitment to quality and innovation made him a leader in the firearms industry, and his legacy lives on in the products his company produces today.
In addition to the shotgun, Mossberg designed and manufactured a variety of firearms, including rifles, handguns, and small arms.
As per social popularity, Mossberg is followed by 410,570 people on Facebook, 154.4K Followers followers on Twitter, and 50K subscribers on YouTube.
Address:
USA Corporate Headquarters
O.F. Mossberg & Sons, Inc.
7 Grasso Avenue
North Haven, CT 06473
Tel: (203) 230-5300 | 8AM-4:30PM EST
Fax: (203) 230-5420